finally yay, Liesl's new book is out!  i'm super happy to be on the blog tour for this one.
it's called the Building Block Dress, and i remember Liesl mentioning the fledgling idea for the book back when she visited Portland for quilt market in 2013!  i know she has worked very hard at getting this thing to print and it's a really impressive final product – it's been a long time coming and i'm excited it's here.  it makes up for the (sad!) absence of new Oliver + S patterns lately.
the book starts with a basic bodice and flared skirt girl's dress pattern that includes sleeves and a collar and size ranges from infant to size 12.  from there, it's up to you to design the dress you want to sew and she will help you make it come to life!  Liesl is really giving away all of her secrets in this book, but that's the genius of it.  it's always been intimidating to me to make huge changes to existing patterns, but under Liesl's guidance it isn't hard at all – just a bit time consuming.  and now i respect her work even more.  🙂
i handed the book over to E and asked her to let me know which her favorite designs were, and her first choice was Dress Variation G on page 23.  it features a scalloped yoke and external hem facing.  i attempted the scalloped yoke, but my sewing is so rusty the scallops were reeeeeally not working out, so i ended up chopping the failed part off and adding an additional band of chambray to make up the difference.  i also lined the bodice because i actually can't stand binding armholes with bias tape and avoid it whenever possible.  it led to a really clean finish.
i sewed a size 6 bodice and the skirt is a 6 with size 8 length, and the fit is perfect.  i've mainly been sewing gymnastics leotards for her behind the scenes and i worried she'd grown more than i estimated, but i was relieved when she put on the finished dress that it fit just right.
in a major twist, E gave me complete creative control over the fabric selection.  i actually asked if she wanted to check out my fabric stash and pick something, but she said she trusted what i'd choose!  WHAT?!  love it.  i picked these two gorgeous blues – Alison Glass Bouquet in Navy from her Handcrafted Indigos collection, with Cirrus Solid in Rain for the yoke and hem facing (aside from my chambray scrap "band aid").  that Alison Glass batik gets me every time, you guys.
E loves it, especially because turquoise and purple are her favorite colors now and i snuck in some pretty little lilac buttons.
my wholehearted (unpaid) plug is this – if you are intimidated by altering patterns or have always wanted to learn how to take a pattern and make major changes to it but didn't know how to start, BUY THIS BOOK.  it is so good, and the techniques you'll learn don't just apply to the Building Block Dress included in the back envelope.
i helped pattern test it back in February, and since then i've used Liesl's instructions to lengthen and alter all sorts of other patterns, including things i've sewn for myself!  this book is a power boost to your overall sewing knowledge and to your confidence, and demystifies the alteration process.  it's written in a really clear and accessible way, because it's Liesl from Oliver + S and she's got a true talent for that.  women's book next please!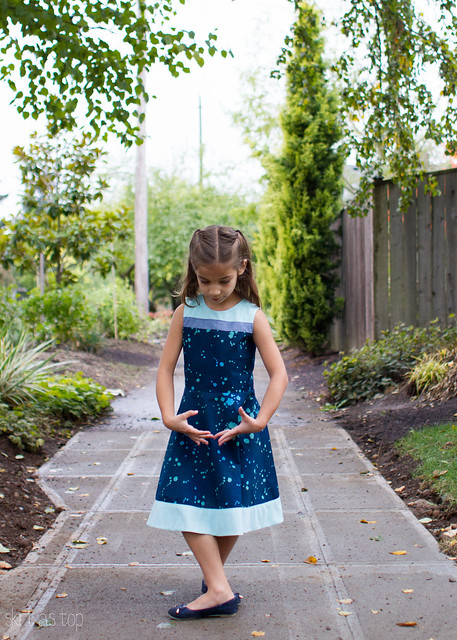 if you want to learn more, you can check out Liesl's posts about her personal journey to this book, see excerpts here, and keep an eye on the Oliver + S blog for more of the blog tour.
i'll leave you with one final pose from E, which she is sure looks amazing and insisted i capture.  goofball.
i received a copy of the Building Block Dress for free in exchange for this blog post.  i am my own woman and have my own opinions, as always.